FOR IMMEDIATE RELEASE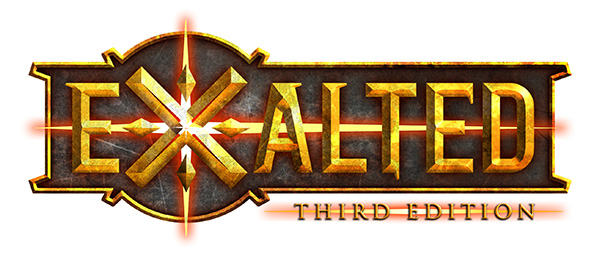 December 5, 2019 — Rich Thomas, founder and Creative Director of Onyx Path Publishing, announced today a new corebook called Exalted Essence is planned for the popular Exalted Third Edition gameline.
"This is a project we've been thinking about for quite a while and we're thrilled it's moving forward. I'm beyond excited to be overseeing the creative direction of this book, which is being developed by Monica Speca and Neall Raemonn Price," said Dixie Cochran, the coordinating developer for Exalted. "We handpicked the Essence team, all of whom love and have worked on Exalted, very carefully and can't wait to see what they do with the outline and alpha write-ups provided!"
Exalted Essence will be developed by Monica Speca and Neall Raemonn Price; Exalted Third Edition developers Eric Minton and Robert Vance will also be involved as consulting developers while they continue to develop other books in the line. The new corebook's design is geared for new and existing fans who want a fresh and streamlined take on Exalted. Exalted Essence will include:
Ten Exalt player-character types presented in one corebook for the first time
Universal Charms (including Martial Arts) that work across multiple Exalt types, as well as some Charms that are unique to specific Exalt types
A brief overview of Creation so players and Storytellers can dive right into their epic adventures.
Rules for Sorcery
Storyteller Antagonists
"As a long time fan of Exalted, I'm thrilled to be working on a project that will help spread the joy of playing Exalted to all players — from newcomers to dedicated fans," said Monica Speca, Exalted Third Edition developer and writer.
Writers for Exalted Essence have been contracted, and work will begin in 2020. Once the manuscript is completed, a Kickstarter is planned for the new corebook.
Fans will be thrilled to know Exalted Essence is not a new edition of Exalted. Like its name suggests, the new title distills what makes Exalted Third Edition great into a new corebook and is designed to work with other books in the line.
To discuss Exalted Essence, join the Exalted community! Talk to fans, writers, and developers on these channels:
About Onyx Path Publishing: Founded in 2012, Onyx Path Publishing is a Pennsylvania-based company dedicated to the development of exemplary, immersive worlds. Working with a group of amazingly talented creators, we explore print, electronic, and other forms of media distribution to make our products available to our fans. With over 25 years of publishing experience from which to draw, we are industry professionals who love the art of the game and plan to continue making meaningful, innovative contributions in the years to come.
On the web: www.theonyxpath.com
Twitter: @theonyxpath
Facebook: www.facebook.com/TheOnyxPath
About Paradox Interactive: The Paradox Interactive group includes publishing and internal development of games and licensing of World of Darkness. The publishing operation publishes both internally developed titles and titles developed by independent studios as well as music and books. The game portfolio includes more than 100 titles and Paradox Interactive owns the most important brands, including Stellaris, Europa Universalis, Hearts of Iron, Crusader Kings, Cities: Skylines, Magicka and Age of Wonders. From the start over ten years ago, the company has published its games all over the world, initially through physical distribution using partners, but beginning in 2006 has primarily distributed digitally using its own publishing arm. The development platform is primarily PC, but the company has released games on console and mobile platforms as well.
Paradox Interactive AB (publ)'s shares are listed on Nasdaq Stockholm First North Premier under ticker PDX. FNCA Sweden AB is the company's Certified Adviser. For more information, please visit www.paradoxinteractive.com.
[TESSERA GUILD NOTE: All of the above information including the writer's name and date/time were taken from the press release.]