BY KEVIN SIEMBIEDA
ONE GAME SYSTEM – EVERY GENRE – COUNTLESS WORLDS – ENDLESS ADVENTURE
I hope those of you who had a long weekend enjoyed yourselves. I worked through most of it figuring I'd have three days of quiet to move along Rifts® Bestiary™ and I did. Email problems and computer issues plagued us since the last Weekly Update, devouring Wayne's time, so we are only now getting into the laying out phase of Rifts® Bestiary™ Volume One. I took that time to go back into the manuscript and do additional embellishments on some of the beasts. I really want this book to be a crowd-pleaser and wow people. I also wrote what I thought might be a Foreword to the book, but I'm not sure I'm going to use it, so I'll include it here in this Weekly Update as my Closing Thoughts.
Those difficulties we had sending out mass emails meant we were unable to email the May 23rd Weekly Update, and we apologize for any inconvenience that may have caused you. We hope you didn't miss out on the mind-blowing Rifts® sale that ran from last Thursday through yesterday. We were able to send out a couple "sale ends soon" emails that should have reached most of you.
NEW Sale: All Dead Reign® and most Nightbane®, and select other titles featuring the undead and darkness, are on sale now through next Wednesday at prices to send chills down your spine. The sale takes place here in Palladium Books' online store PLUS a similar sale is taking place on DriveThruRPG for PDF titles. We figured with the new season of Fear the Walking Dead returning this weekend, we'd put Dead Reign® and other dark settings on sale. But it is only for a short time, so please spread the word!
Otherwise, we continue to push forward with work on several titles. While our main focus is getting Rifts® Bestiary™ Volume One to the printer and into your hands, other books are coming along too. At this stage, that's mostly writing, editing and artwork by others. The next book release will be The Rifter® #83, filled with truly great adventure source material. Then Dead Reign®: In the Face of Death™ sourcebook and Garden of the Gods™ sourcebook for Palladium Fantasy. As I mentioned last Update, I may flip the release order of those two and do Garden of the Gods™ then In the Face of Death™. I still haven't decided yet, but fantasy is calling me. Then with a little luck and hard work, Chaos Earth® Psychic Scream™ and/or The Rifter® #84 will quickly follow and all four of five titles will be available by the end of July. On top of that, we have people working on Rifts® Antarctica and Rifts® Titan Robotics™, along with a number of other titles, including books for Palladium Fantasy.
NEW SALE – DEAD REIGN®, NIGHTBANE® AND OTHER BOOKS – AT PDF PRICES – NOW THRU JUNE 5, 2019
Are you are aching to destroy zombies and battle the forces of darkness? Yes! Then this sale is for you. ALL Dead Reign®, Nightbane® and other select physical books are on sale (except for those that are extremely low or out of stock) at prices to wake the dead! Palladium Books – today thru Wednesday night, June 5, 2019. A similar sale for PDF titles is also happening at DriveThruRPG; see details below.
A KICKSTARTER YOU MAY WANT TO SUPPORT: THE WORLD BETWEEN NOVEL (FANTASY) BY SARAH ORR ATEN – 7 DAYS LEFT
Many of you know Sarah Aten from Gen Con, the Palladium Open House and her activities online. Sarah is a dear friend and a great helper. And she is writing a Fantasy time travel novel that she is funding via Kickstarter, now thru June 6, 2019. Get all the information you need from the Kickstarter, and if it sounds good or you want to support our friend Sarah, then please do so. For more details, here is the link to The World Between Kickstarter. Sarah, unleash your imagination! I look forward to getting my book.
https://www.kickstarter.com/projects/1825805433/the-world-between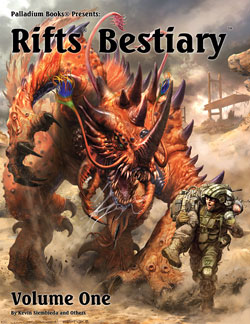 UPDATE: RIFTS® BESTIARY™, VOLUME ONE – JUNE RELEASE
It has taken a while but this monster of a book is entering the final stage of production, and nobody is happier about it than we are. Next stop, the printer.
Don't forget, we are not just collecting monsters and animals from Rifts® books and reprinting them. I am updating each and every one of them, making every creature feel like something new and expanded. Each one a comprehensive description filled with fun surprises and ideas for adventure and various uses by players and G.M.s alike. Beasts from across the Megaverse and ranging from delightful and helpful to monstrous and alien. Roughly 100 monsters and animals in the Rifts® Bestiary Vol. One, alone. Plus words from Erin Tarn about the wilderness of North America. June release.
UPDATE: THE RIFTER® #83 – JUNE RELEASE
The artwork has been coming in all week. Another book soon to go into final layout.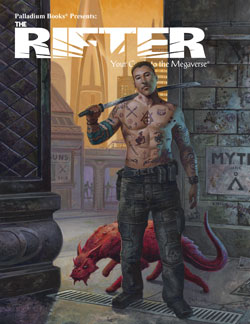 UPDATE: THE RIFTER® #84 – END OF JUNE OR EARLY JULY RELEASE
Wayne has made his selections and I will be assigning artwork soon. Another great issue full of fun and ideas.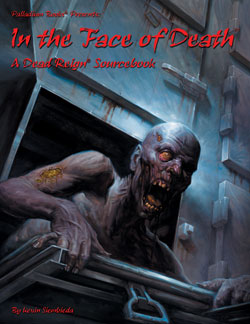 UPDATE: IN THE FACE OF DEATH™, A SOURCEBOOK FOR DEAD REIGN®
The next book on my schedule. I expect this one to go quickly. Artwork is done. As soon as I am finished with Rifts® Bestiary™ Volume One, I dive into finishing In the Face of Death™. A June/July release.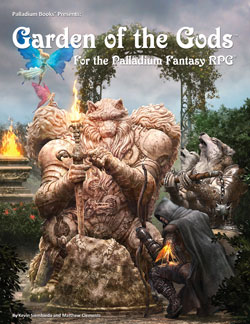 UPDATE: GARDEN OF THE GODS™ – SUMMER RELEASE
The cover is being painted and the interior artwork that is already coming in is looking great. This Palladium Fantasy sourcebook should be fuel for countless adventures and will be followed by the Lopan world book which explores the rest of the island nation, its people, and more adventure.
Garden of the Gods™ is a unique adventure engine that should give players and Game Masters plenty of fuel for their characters and games. The Raw Preview Edition gives you a great idea of what you can expect when the finished book is released later this summer. We cannot wait to get all these books into your hands. I am shooting for an end of July/Gen Con release, but August is probably more realistic.
UPDATE: RIFTS® CHAOS EARTH® – PSYCHIC SCREAM™ – SUMMER RELEASE
The interior artwork is being worked on even as you read this. Another epic sourcebook by Taylor White with additional material by Kevin Siembieda. Shooting for a July release, but no promises. I am pumped about this title.
UPDATE: RIFTS® TITAN ROBOTICS™
Finished artwork and concept sketches are already starting to come in and looking fabulous. Half the art has been assigned and I will be assigning the rest very soon. As those of you who have purchased the Titan Robotics™ Raw Editionalready know, there is a lot of new tech, power armor, robots, etc., in this book that needs to be illustrated. I now have a trio of artists working on the book, and will be assigning others. A summer or fall release, which depends on how quickly some other projects come together.
UPDATE: RIFTS® BESTIARY™, VOLUME TWO – FALL RELEASE
Nothing new on this front, but we all want it to be released as quickly as possible. Looking at a fall release.
UPDATE: RIFTS® ANTARCTICA™
Nothing new to report. I think Rifts® Antarctica™ is going to surprise and delight a lot of people. It is also a great example of the fun you can have with the Raw Editions. The sold out Rifts® Antarctica Raw Edition is a far cry from what the finished book is going to be. Those of you who bought the Raw Edition get a glimpse at Palladium's creative process. When you compare the two, you'll see what we kept, what we eliminated, what we added, and how we embellished the material to reach the creative finale of the finished book coming this fall or winter. Fun and educational for those of you who aspire to be writers yourself or just like to have the inside track at Palladium. And true of all Raw Editions vs the finished book. Probably a fall or winter release.
UPDATE: THE DISAVOWED™, LIVING NOWHERE™, BEYOND THE SUPERNATURAL™SOURCEBOOKS, AND OTHER TITLES
These titles and several others are NOT forgotten and are in various stages of active production or waiting for production. As always, just because a book is not specifically listed in every Weekly Update, it does not mean it is discontinued or in limbo, it means there are more immediate things to talk about or there's no substantive news to report. We are anxious to put as many of the books you've been waiting for into your hands as possible over the next 18 months. That includes Chaos Earth® First Responders™, Rifts® Antarctica, Rifts® CS Arsenal™, Rifts® Living Nowhere™, Beyond the Supernatural™ sourcebooks, more Fantasy sourcebooks and other titles. So if a book you are waiting for is not mentioned in an Update, it means there is nothing new to report, but it should still be in the pipeline and news for it will be coming in the weeks or months ahead. Right now, we are focused on releases for the next six months, which by our count is 6-7 titles. And many of them are in various stages of production or development.
NEW ON DRIVETHRURPG.COM – STOP THE DARKNESS SALE – ALL PDFS FOR DEAD REIGN®, NIGHTBANE® AND SELECT OTHER TITLES ON SALE – NOW THRU JUNE 5
Are you are aching to destroy zombies and battle the forces of darkness? Yes! Then this sale is for you. ALL Dead Reign®, Nightbane® and more PDF titles are on sale! Starting today thru Wednesday night, June 5, 2019. A similar sale for book titles is also happening at PalladiumBooks.com.
Recent PDF additions include the Palladium Fantasy RPG® Interactive Character Sheet: a Microsoft Excel-based character management system. Packed with features and data collected from every official Palladium Fantasy sourcebook to enable you to create Fantasy characters quickly (25 minutes!) and help you to update and manage them for years to come. The Rifter® #79 (Rifts®, Palladium Fantasy®, Heroes Unlimited™, Gaming through History, G.M., and more), The Rifter® #78 (the Modern Necromancer, Palladium Fantasy®, Rifts®, Splicers®, more); Rifts® Heroes of Humanity™, the Coalition's response to the escalating Minion War™ crisis, Psi-Battalion, CS Demon Hunter, special training and more).
Dead Reign® Paper Miniatures Volume Three: Zombies, Dead Reign® Paper Miniatures Volume Two: Civilians and Dead Reign® Paper Miniatures Volume One: Survivors. There are also paper miniatures for Heroes Unlimited™, Palladium Fantasy® and Rifts®. A new, up-to-date, PDF Palladium Books Catalog. Nightbane® Dark Designs™ sourcebook with 60 new Common Talents, 38 new Elite Talents, 18 new Morphus Tables, all other Morphus Tables collected and more. Systems Failure™ RPG, a 160 page RPG that deals with alien invasion and a post-apocalypse setting that is fun and dynamic. Civilization is on the verge of collapse when the so-called "bugs" invade and turn humans into zombie-like slaves. Monsters, heroes and fun. A complete RPG and setting. Rifts® World Book 34: Northern Gun™ Two: 256 pages of technology and fun. 30+ power armors, 30+ body armors, 15 combat vehicles, 45 vehicles (hovercycles, etc.), 10 robot haulers, the Robodome and more. Bizantium and the Northern Islands™: the northernmost part of the Known World, the Cold Born, Necromancy ships made from dead sea serpents, 15 creatures, Random Sea Monster Generator, and more. Rifts® Northern Gun™ One. This fan favorite might be thought of as the big book of giant robots – an in-depth look at Northern Gun, 70+ weapons, 27 robots, NG O.C.C.s, key people and places, and much more. Mysteries of Magic™ Book One: The Heart of Magic™ with Wizards, their Apprentices, nearly 60 new magic spells and remember, magic and monsters in the Fantasy RPG are easily adapted to Rifts®, Chaos Earth®, HU2 and other settings. Wolfen Empire™ Fantasy sourcebook, the Great Northern Wilderness and Killer Winters, 12 Wolfen Tribes, Wolfen military and society, 15+ creatures, 5 full adventures, 101 adventure ideas, random encounter tables, notable people, places, plus FREE Sneak Previews of The Rifter® #80, The Rifter® #81, The Rifter® #82, and more on DriveThruRPG.com.