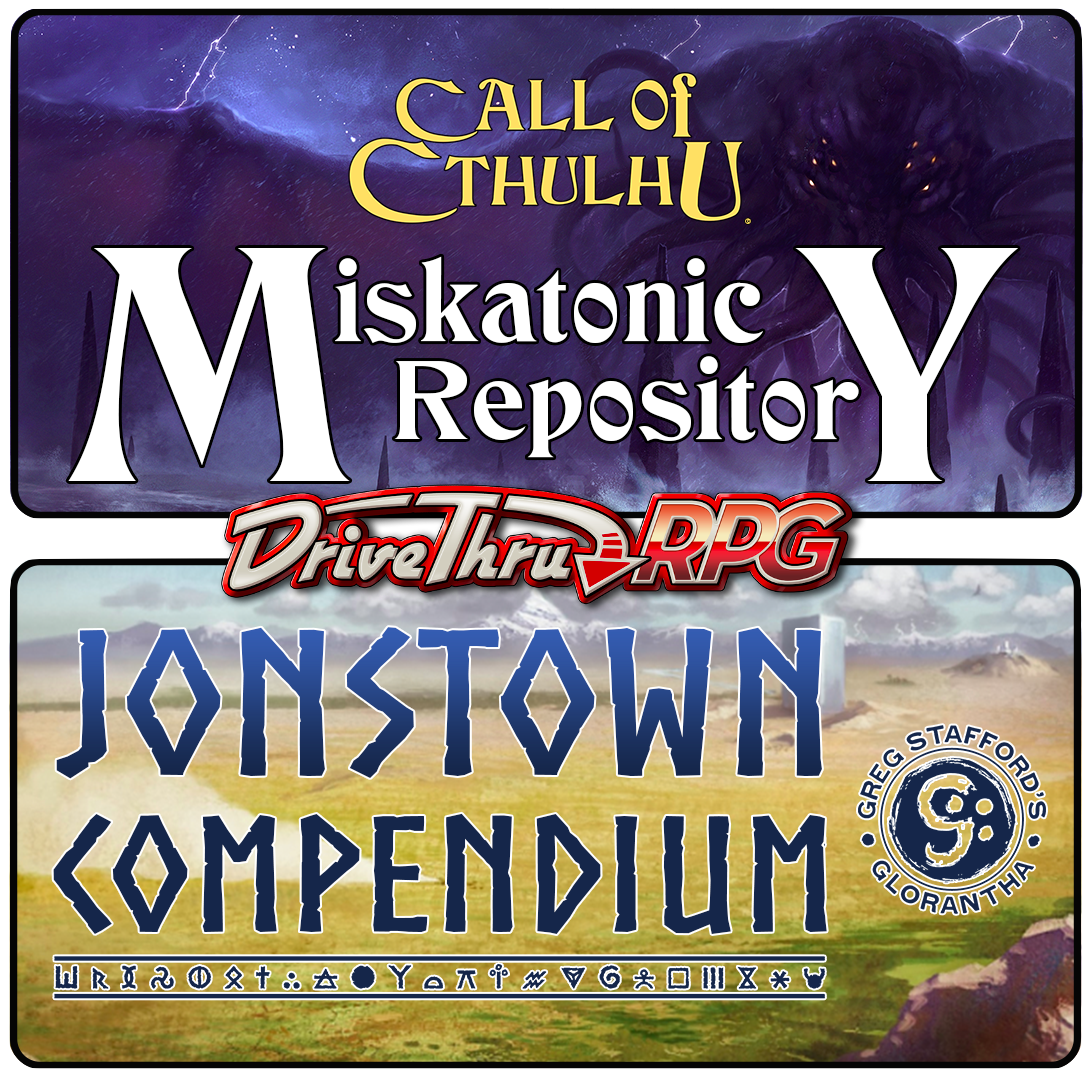 Chaosium has appointed Community Ambassadors for its Miskatonic Repository and Jonstown Compendium community content programs on DriveThruRPG.
The Miskatonic Repository is Chaosium's platform on DriveThruRPG for independent creators of gaming material for the Call of Cthulhu tabletop roleplaying game. It was launched in December 2018. The Jonstown Compendium, established in December 2019, fulfils the same function for RuneQuest and Greg Stafford's world of Glorantha.
The success of these fan-driven programs is evident by their thriving communities of creators and the rapidly growing number of titles available, with more added every week.
Allan Carey (below left) is the Miskatonic Repository Community Ambassador and Nick Brooke (below right) is the Jonstown Compendium Community Ambassador.
On Chaosium's behalf, they will act as a first point-of-call and helpful sound board for prospective Miskatonic Repository and Jonstown Compendium content creators.
They can provide advice with the various aspects of creating and publishing a community content work, including ideas generation, IP issues, writing, editing, art direction, layout, publication, and preparing a title for print-on-demand. They can also direct queries to the appropriate person at Chaosium or DriveThruRPG if need be.
Chaosium vice president Michael O'Brien said:

"Nick was recently awarded the Greg Stafford Memorial Award for Gloranthan Fandom for 2020 for his passionate advocacy of the Jonstown Compendium. We're happy to formalise that advocacy with this appointment.

And Allen is a highly experienced and award-winning content creator with a deep and dedicated love of the Call of Cthulhu RPG.

We are pleased to have both on board to work directly with our growing band of independent writers and artists at DriveThruRPG."
What is the Miskatonic Repository?
Under The Miskatonic Repository community content license, Call of Cthulhu fans can make their own work for use with the game line available to the public, using guidelines, templates, and art provided by Chaosium.
What is the Jonstown Compendium?
Under the Jonstown Compendium community content license, fans of Greg Stafford's world of Glorantha can sell and share their own material on DriveThruRPG.
Check out the Jonstown Compendium Guidelines and start creating!